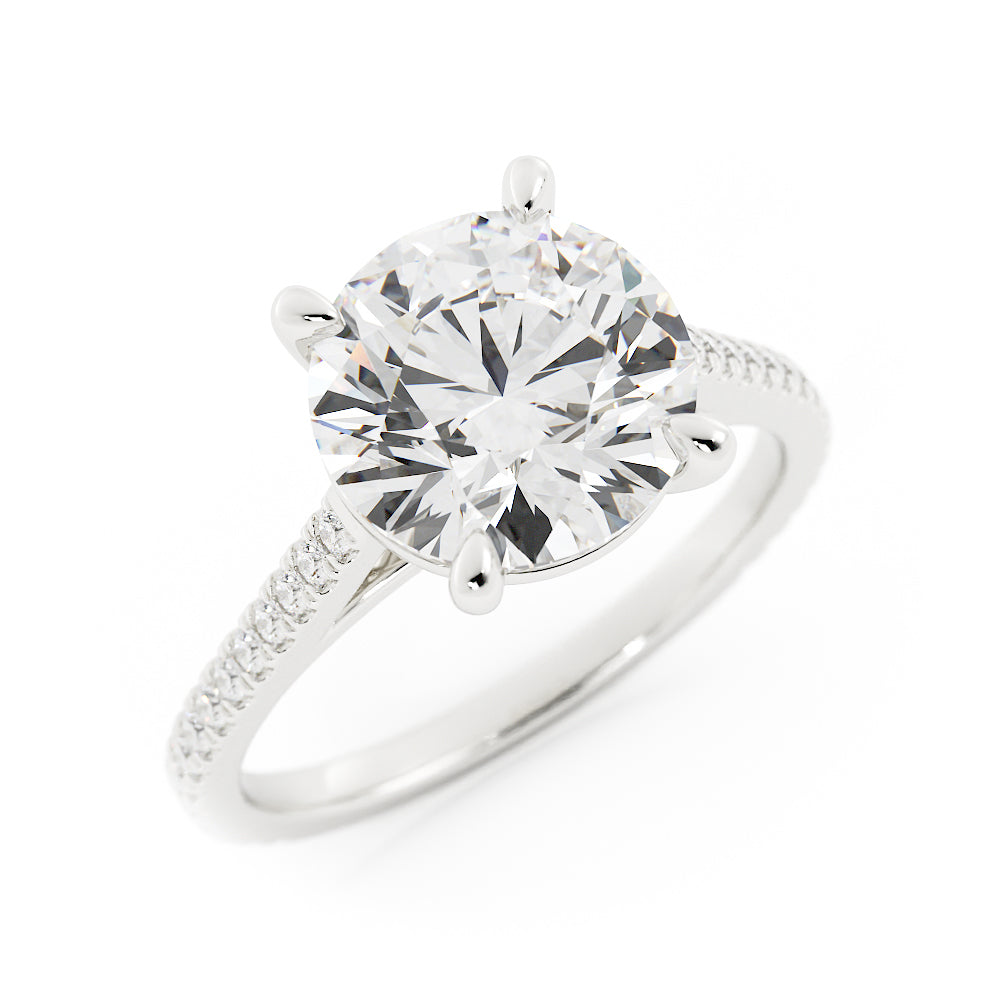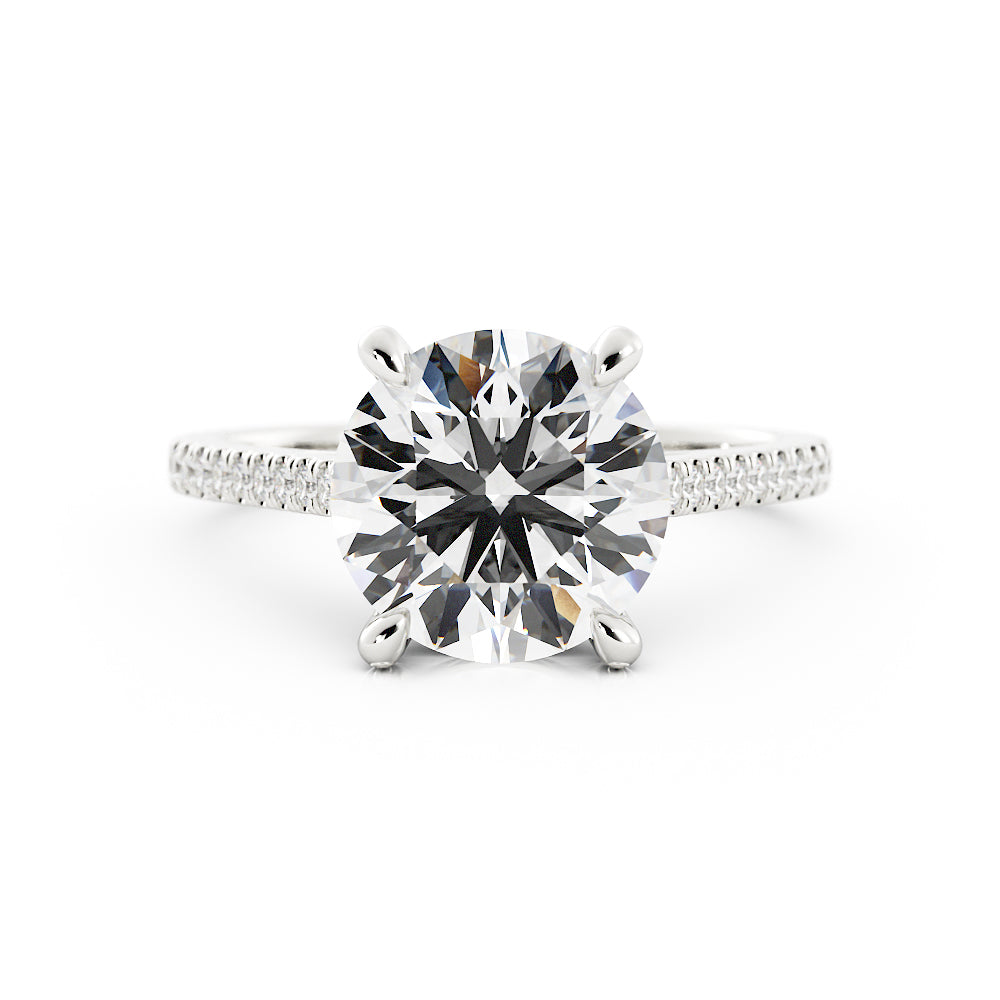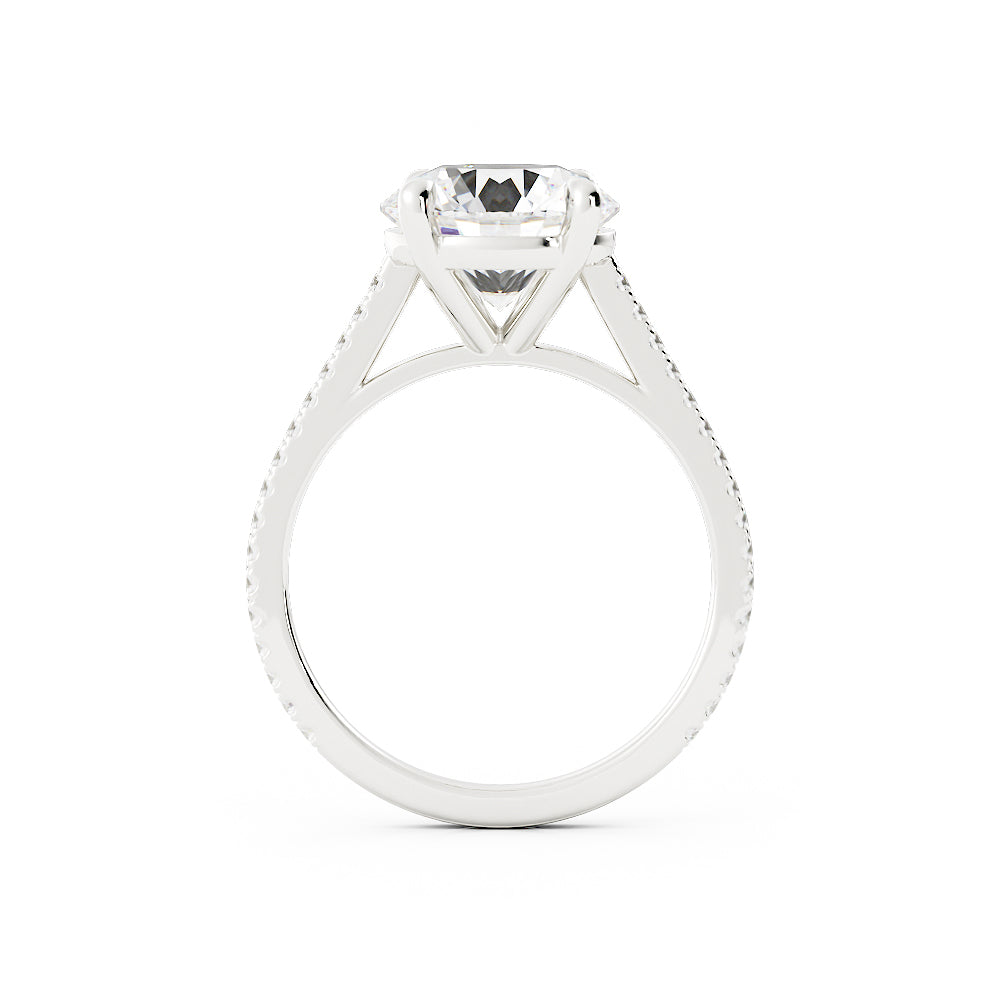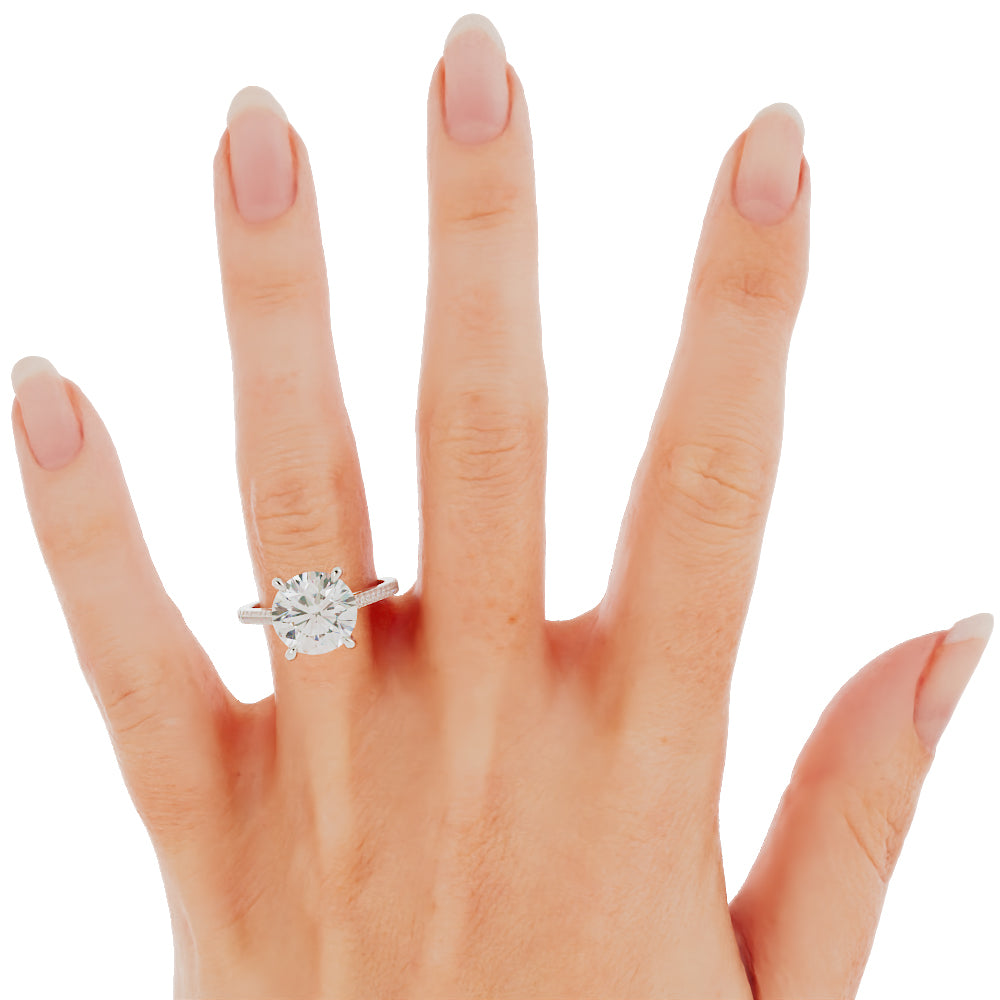 RHEA | Round Brilliant Cut Diamond Engagement Ring
This splendid platinum handmade ring can be a superb engagement ring for your loved one.
The open setting maximises the fire and brilliance of the stone and can leave the showcase of the full cut of the diamond. 
The round brilliant cut stones set into the band add elegance and sparkle, not to mention the extra carats. 
The 1.6 mm slim and elegant band makes it comfortable to wear. 
Side stones: carat weight, number of stones, and product dimensions will vary based on the size of your personalised design. 
The minimum carat weight for the centre diamond is 1ct—the diamond coverage on the band is ¾.
This design is available in 950 Platinum. It is proudly designed and handmade in the US.
---
RHEA | Round Brilliant Cut Diamond Engagement Ring
FAQ

Are all your diamonds natural?

Yes. Our diamonds are 100% natural, untreated, GIA-certified diamonds.

We specialise in colourless and fancy coloured diamonds too.

Do you sell lab-grown diamonds?

We do occasionally accept bespoke bridal commissions with lab-grown certified diamonds.

Have any of your diamonds been treated or clarity enhanced?

All our diamonds are from reputable international suppliers and are carefully chosen. We do not work with treated diamonds. Instead, our founder, a gemologist, carefully selects each gemstone we use for our jewelry.

Can I customise my order?

We offer complimentary engraving, up to 7 letters for our bespoke engagement ring collections and wedding bands. For more information, please send us an email at info@andrasteine.com.
Shipping

How soon will I receive my order once it ships?

Jewelry orders ship using FedEx 2-Day within the United States and for international orders, FedEx International. We also have available FedEx Overnight (there is an extra charge for it). All jewelry shipments require a signature on delivery.

FedEx 2-Day: 2 business days (excluding weekends and holidays)
FedEx Overnight arrives the next business day from 10:30 am-12:30 pm (excluding weekends and holidays).
FedEx International:2-6 business days (excluding weekends and holidays)

Is shipping insured? do I have to sign for delivery?

Andra Steine orders always come with fully insured shipping and require a signature upon delivery.

We send the piece of jewelry in a discreet package via FedEx.

If you cannot sign up for your package, you can request a hold through the FedEx website to pick up your parcel at a local FedEx office. Kindly note that vacation holds are not available.

Several delivery attempts will occur before the package is automatically held at a local FedEx Centre (for two days) or returned to Andra Steine Jewelry.

The purchaser is responsible for any fees associated with returning a package to Andra Steine Jewelry after failed delivery attempts.

Will I receive a confirmation of my order?

You will receive a confirmation email almost immediately after placing your order.

Please check your junk mail to ensure the automated email confirming your order has not been diverted to this folder.

You might have entered your email address incorrectly if you do not receive your email confirmation. If this is the case, please email us to amend it.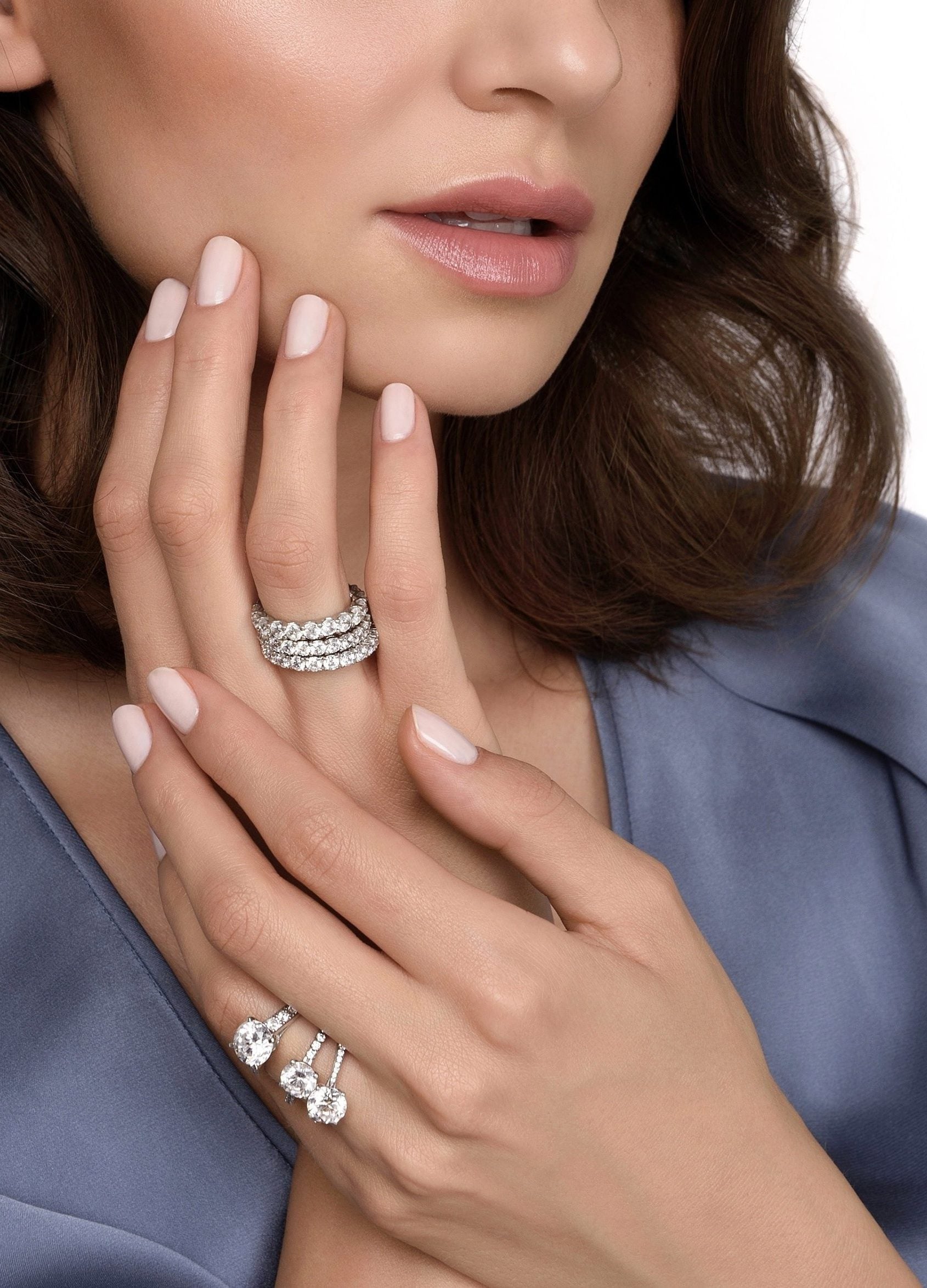 Platinum
At our brand, we believe in crafting engagement rings that embody durability and luxury. That's why we exclusively use platinum, one of the most exquisite metals for jewelry design.
Platinum is renowned for its exceptional strength and resilience, making it an ideal choice for long-lasting pieces. Its natural white luster beautifully enhances the brilliance of gemstones, creating a captivating and timeless elegance.
Unparalleled quality
When you choose one of our platinum engagement rings, you're not only selecting a symbol of enduring love, but also embracing the unparalleled quality and sophistication that platinum brings.